Testimonials
Here are just a few of our testimonials. If you wish to contact any of them please let me know and I will arrange a convenient time and contact details.

"What a fantastic job on the floors, Joel - it transforms the house! You'll be interested to know that the other workers in the house said beforehand - 'it will never look as good as the panels he's left'. Then, one of them was so excited when he saw how good it was, that he took photos to show to the other workers - so fame indeed! You have done an amazing job on the dresser too - that is transformed as well! So, many thanks indeed for such a wonderful job - and we look forward to seeing you again for the next phase of the work."
Chris and Phoebe King, Keele, Staffs.
"WFS has stripped and finished Victorian floorboards in our hallway and installed oak engineered boards in our kitchen. Both jobs turned out even better than we'd hoped for and were done at a very competitive price. Having Polo working in our house was a pleasure and we have recommended WFS to friends all over Bristol."
Gaby and Tom, Bishopston, Bristol.

"Joel has provided us with a fully professional service with advice from floor type through to maintenance and cleaning.  The floor was laid on time and on budget.  The final floor looks fantastic and is everything we ever hoped for. Many thanks Joel."
Henry & Emma, Wells

"Joel, just wanted to thank you for such a wonderful job. You have transformed our floors way beyond our expectations. More than that though, we also wanted to say thanks you for being such a pleasant and personable individual to have around the house.You take a lot of pride in your work and this shows in the results you have achieved with our floors. We would have absolutely no hesitation in recommending you."
Ann and John Kane, Redland

"Recently, Joel from Wooden Floor Solutions laid new flooring throughout our entire house. We have a particularly awkward hallway that is not straight and branches out in different directions. Other flooring specialists have been around to view our hallway and stated that it would "not look right" due to it's layout. Joel made a fantastic job on this and it does not look out of place at all. We are extremely happy with our new floors and would highly recommend him. He is very knowledgeable about the products he supplies and is totally trustworthy. He is also a very cheerful person and it has been a real pleasure to have him working in our house. We wish him well and every success in the future."
Gill & Colin Adams, Sands, Wedmore.
"Joel Evans is a top guy – he delivers on his promises and never lets you down – he goes the extra mile, nothing is too much trouble, he is incredibly swift and responsive to requests for help and advice, he is honest, sincere and straight with his estimates and quotes, in terms of time as well as cost. He is not just out to make money from you, he always give the right advice for the right situation and this advice will benefit you – frankly I could not recommend him more highly to anyone – he will NOT let you down – if you want to know more – feel free to ring me!"
John Dymond - an extremely happy customer, Wells.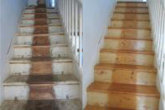 "Joel was a pleasure to have in our home. He answered my initial inquiry promptly, did the work when he said he would and didn't charge a penny more than he quoted. Joel was not put out by having to remove thick ceramic tile adhesive from the bathroom floor boards. He transformed our stairs, landing and bathroom floor and we are very happy with the result. The icing on the cake for us was his use of eco-friendly organic varnish. We recommend Wooden Floor Solutions Ltd unreservedly."
Ginny, Bristol
"Thank you for your reliability and helpfulness. I particularly appreciated the time taken to talk things through and discuss options. It was also a relief to find someone so accommodating, so that I was relieved of some of the stress associated with difficult time constraints."
Lorna Barraclough, Redland, Bristol

"Our floors are fabulous and have transformed the house. We were impressed with his efficiency and skilled work."
Claire, Henleaze, Bristol.