Floors
The beautiful character of a real wooden floor makes a unique, warm and inviting addition to any home. Whether it is the natural beauty of unfinished or the polished appearance of oiled or lacquered wood, your investment has a long life expectancy which will probably outlast the building and is a good thermal insulator. Your wooden floor, with its strength and durability, will age gracefully, reducing allergens and making your home a healthier and cleaner place to live. We offer a wide range of natural solid woods and engineered woods in varying thicknesses, widths and finishes, allowing you to live with nature.
Solid Hardwood & Engineered Wood Flooring
There are two main types of wooden flooring and one of the most important initial decisions you will need to make is whether you need a solid hardwood or engineered wood flooring. Although the appearance of the finished product may be very similar, each one is suited to different conditions.
Solid hardwood flooring is natural wooden planks usually milled from a single piece of timber. A good quality wood will have lengths of between 1.5m to 3m with minimal small pieces but the wider the planks the less stable they become. Wood is a living material which responds to the environment and is therefore affected by humidity and changing temperatures as well as moisture in the sub floor to which it is bonded. Once your solid wood floor is installed you must keep the humidity in the room at between 40% and 60% consistently throughout the year. Excessive humidity will cause your floor to swell and cup, too dry and your floor will shrink causing gaps and splitting. To avoid these problems use a humidifier or dehumidifier to keep the correct balance of 40% - 60% humidity.
Engineered wood comprises of two or three layers, a hardwood top layer that has the look and feel of a solid wood floor, a softwood or plywood core (middle layer) which helps retain the shape and stability and, with a three layer composite, a supporting base layer giving it a strong foundation. These are bonded together under high pressures giving higher strength and durability and also helping prevent the shrinking and expanding due to atmospheric conditions. Engineered wood flooring can be glued down, secret nailed to joists or floating on underlay and is stable in wider planks.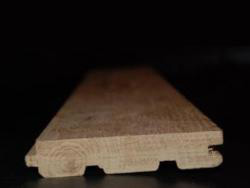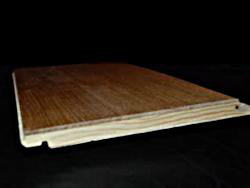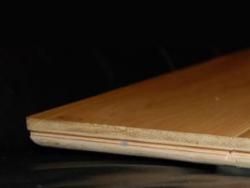 Bevelled or Square Cut Edges
Solid wood or engineered boards can have two types of edges to the planks. Square shoulder produces a seamless finish so that the edges of the planks cannot necessarily be seen giving a far more contemporary feel. Whereas micro bevelled edges, also known as micro V grooves, have the uppermost edges of each plank cut at an angle accentuating the individual planks, this is also known as easing, and defines the boards edge for a more traditional look.
Whichever edge you choose you have two further options regarding how many edges of the individual boards are bevelled or squared. If you have all four sides with square shoulders the floor has a completely seamless feel or with just two sides it would give you the effect of long seamless lengths of wood.
Whereas with all four edges bevelled it would accentuated each individual plank or you could just have two edges with bevels depending on the overall look you are aiming to achieve. Sample boards are available during the quoting visit to help you make the right choice for your particular project.