Woods
Below is a small selection of classic responsibly sourced woods, together with examples of reclaimed and exotic woods. Although these exotic woods when new are not as environmentally friendly but are available as reclaimed woods. These kiln-dried woods can be used unfinished, oiled, brush oiled, lacquered, fumed or double fumed to create an intensity of colours and effects (see Finishes for more details).
More information about reclaimed woods and parquet flooring can be found in our Restoration Section.
Wood Grades
Wood is graded according to the colour variation, knot and grain patterns with prices varying greatly between Grade 1 and Grade 3. The grading system was created in the US by the Wood Flooring Manufacturers Association (NOFMA) to describe and regulate the appearance, colour, grain, and markings but there are no British Standards or industry standards for wood floor grades so it is important to check what is included or excluded in each case. Grades are also species specific, for instance, Prime or Select Oak may not contain any knots but top grade Ash or Walnut quite possibly would.
Grade 1 - Prime/Select
This is the highest grade of wood planks with a straight grain, uniform colour and very few character marks or knots creating a visually consistent, elegant appearance.
Grade 2 - Natural/Harmony
This middle grade timber may display a few smaller knots, some colour or texture variations and a slightly more visible grain pattern to create a stronger character.
Grade 3 - Rustic/Variation/Character
A vibrant grade with unlimited colour variation and knot size with a strong character producing good value for money without compromising on quality, wear or stability.
Wood Effects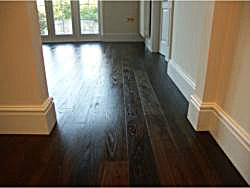 Techniques such as fired, smoked, fumed or double fumed can create beautiful bespoke woods. These ancient skills from a bygone age can transform oak to create a depth of character and ambience to any room.
Single fuming develops warm, pale hues whereas double fuming, which takes time, produces an antique, darker or aged feel. Fired oak generates a very dark, almost black tone which travels the entire depth of the plank.
These treatments to oak planks have a choice of finishes available which can enhance the appearance and atmosphere of any room.